Earlier this month, I took the PMP exam and passed it on the first try, scoring above target in every domain. These posts will describe what I did to prepare, and what it was like for me taking the exam. While everyone's experience will be different, reading this should give you some insight into what to expect and greater confidence that you can succeed as well.
Process Overview
Every project has an outcome, a goal it seeks to deliver. A good project manager works backwards from that goal to define what needs to be done.
If one's project is to earn a PMP, one must pass an exam. Prior to that, one must apply, have one's application approved, and schedule a timeslot to take the exam. And in order to apply, one must have completed a minimum level of education, experience, and training.
In this post, I will discuss my training for the exam. Other posts will cover the application process, scheduling the exam, and my experience taking the exam. A final post will serve as the lessons learned register, summarizing the tips and tricks from these posts.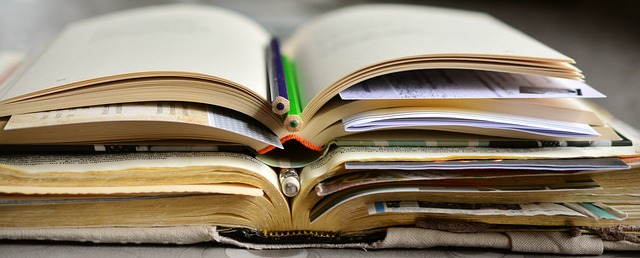 Training Options
There are so many ways you can acquire the required 35 contact hours of training before taking the PMP exam. I chose an online self-paced course by Andrew Ramdayal that was broken up into about 450 individual short video lectures plus some quizzes and a practice exam, and hoped to complete it in a month. There are many other online and in-person courses out there, and the best one for you is one that fits your wallet, your schedule, and your learning needs: do you need to interact with the instructor and your peers to learn; do you focus better in-person or independently; etc.
Staying Motivated
The advantage of a self-paced course is you can spend as much time each day on it as you want, not restrained by someone else's timetable. But this freedom came with a corresponding risk: without an external timetable, I was accountable only to myself, and I found myself spending much less time on it than I had originally promised. Other things kept coming up, and it was hard for me to convincingly push back on them because I knew I could just put in extra study time another day to catch up.
Ultimately, I needed an information radiator to track my progress and to encourage me to keep moving forward. I created a wall chart breaking the course into 30-minute sections and began checking off each box as I completed those lectures. This dramatically improved my pace. I did not complete the class within my initial month, but that wall chart was a significant motivator.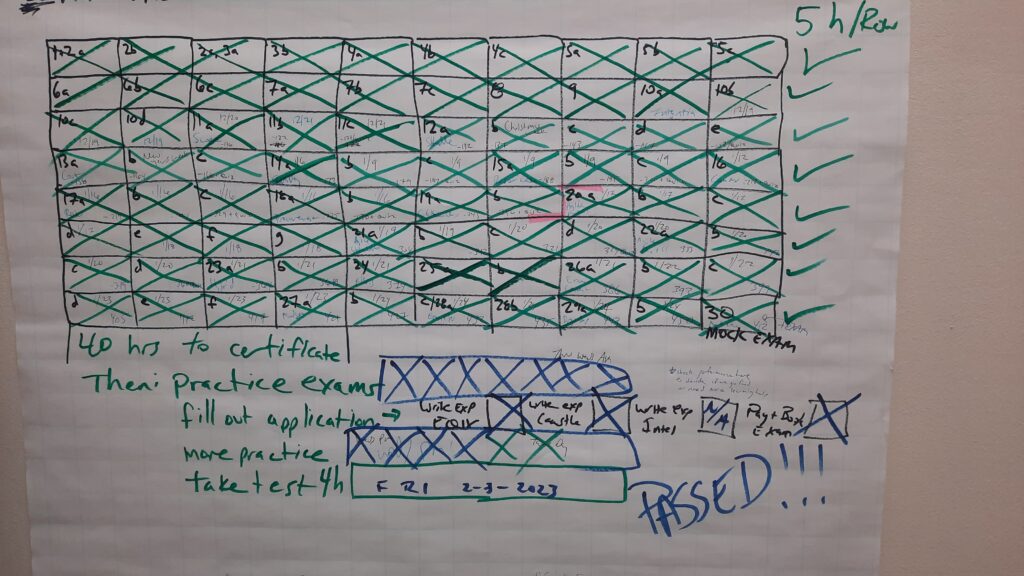 Final Preparation
Upon finishing the course and obtaining the certification of completion, I finished and submitted the PMP exam application, and then started taking other practice exams. My goal was to pass multiple exams at 80% or better, and to understand why I answered any questions wrong, to identify areas I needed to review further. I took practice exams by several persons, and grew my confidence with each one. I wrote out the EMV formulas and the 49 processes by hand until I had memorized them.
In the days before my official exam I sought out additional perspectives on the PMP, listened to lectures from Joseph Phillips and Scott Payne, and reviewed some of Andrew Ramdayal's videos as well. Each of these instructors said at times, "Expect to see this on your exam. Memorize this. Write these things down on the scratch paper or wipe-erase board they give you." I did that, and I can report that I never referred back to the wipe-erase board notes during the exam. This does not prove at all that they were wrong; more likely, I deeply benefited from the process of internalizing these terms and ideas. If I had it to do over again, I would have also created my own flash cards for terminology I had not previously encountered.
Three things stand out about this preparation time to me. First, the wonderful ability to play streaming video at high speed until something catches your ear and you want to review that in depth. Second, Joseph Phillips' continued exhortations of "Great job; keep moving forward" encouraged me as I did my final cramming. And lastly, Scott Payne's six-step process for parsing exam questions came in handy on the actual exam.
Real World Application
Going through the study process not only prepared me to pass the exam, but gave me additional context and framework for my years of experiential on the job learning. The recent (2021) changes to the PMP to emphasize working successfully across the predictive-hybrid-agile contexts really resonate with what I've seen in the workforce. They reinforce my belief in the importance of understanding and responding to one's contextual environment when deciding one's approach, rather than relying on a single standardized tool to address every problem.
The delightful challenge for any project or program manager is to bring wisdom and listening into opportunities, and to understand the particular challenges and pain points of a situation, before recommending a specific project management mindset, process, tool or technique. Healthy projects, like healthy people, may have some things in common, but the corrective actions to get there may be different for each person and project. A good doctor asks questions before diagnosing; so does a good project manager.
Next Steps
The learning doesn't stop here. In the few weeks since passing the PMP, I've had the opportunity to counsel multiple persons on what next steps they and their businesses might consider taking based on what I've learned. I'm excited to continue growing in my understanding and application of these ideas, and grateful for vibrant communities that share that excitement.