A Program Manager depends on effective communication throughout the Program.
---
Complexity of Moving Parts
These figures show several views in varying levels of detail, that a Program may include. (My programs are hybrid hardware-software system development efforts. Many projects that spend effort, time and money will see analogies to their own situations.) The complexity shown illustrates why a Program needs good communication on every aspect.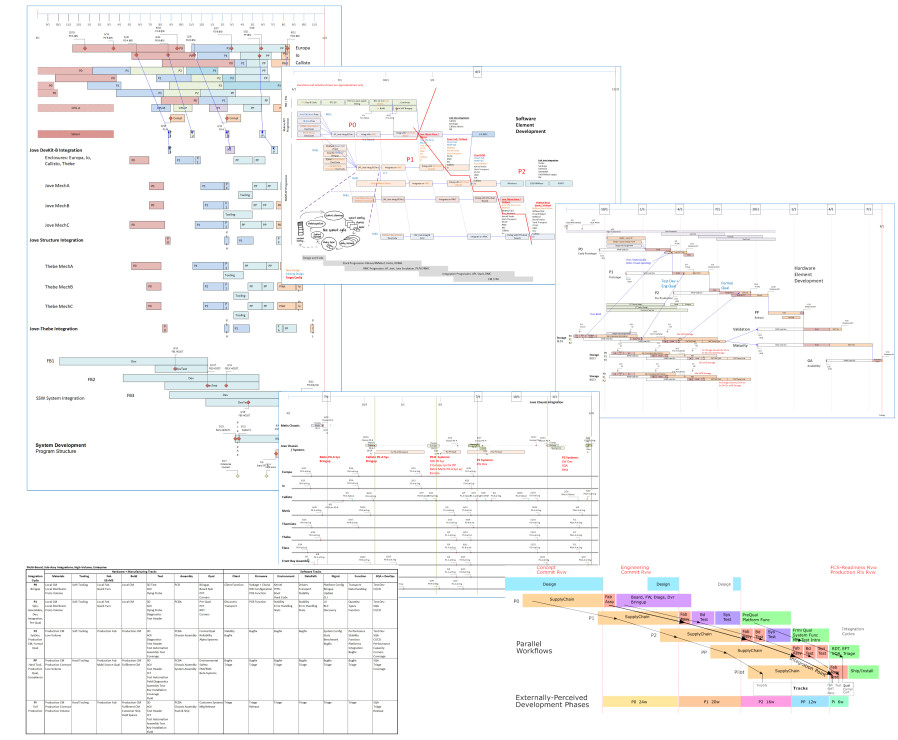 ---
Principles Of Complex Hybrid Programs
Many Moving Parts – And Everything Doesn't Go Right By Accident.
PM Is Responsible to See the Future, And To Make That Future Happen.
Continuous Update: PM Constantly Determines Best-Known Path From Here. Tools!
Program product technologies drive complexity of process; rather than Program complexity driven by chosen process.
PM gets work done through others in the organization. So Effective Communication Underlies EVERYTHING.
Appropriately delivered, to All Involved Domains.
Received, and Mutually Understood.
Agreed, Accepted, Acted-Upon, Consistent With Involvement.
Practiced Pervasively.
PM Creates/Collects Directions, Communicates Integrated Direction, Facilitates and Reports Work. PM is Only One with Quantified, Integrated View.
PM Creates, Organizes, Facilitates Communication in All Dimensions
Cross-Functional, Management-Level, Cross-Profession, Cross-Product, Cross-Project.
PM Organizes and Quantifies Program/Projects for Communication.
Program-Level Organized Communication.
Project-Level Organized Communication.
Negotiating: PM often moderates negotiations among Program stakeholder entities, or Program's place in the organization.
Ensure alternative positions are well-presented, avoid bias that may include incomplete exposition, exaggeration, deprecation, biased case comparison (e.g. optimistic case of preferred outcome versus pessimistic straw-man).
Decide based on merit. Thorough evaluation compares optimistic vs. optimistic outcomes among contenders, likely vs. likely, pessimistic vs. pessimistic and includes situational differentiators, risks, and mitigations. From these, choices and trade-offs can be determined among greatest-good and least-harm.
PM Identifies and Trains Leads/Communicators as Manageable-Entity SME Leaders for Leverage Within The Organization. Load Share Distributed Communication Throughout the Organization.
PM Advocates Communication Style: Organized Agenda, Notes Distribution, Project Repository.
---
Formal Program Communication
Business Plan – Product, Market, Customer Value, Revenue / FCS, ProdCost, DevCost: NPV-ROI. Know how to accomplish NPV.
Product Requirements Review – Partner With Product Management, Development, all Stakeholders, And Negotiate Agreement On Practical Delivery of Features and Characteristics, Required or Desired.
For Program Commit.
Quantified Specifics: Product Technicals, Architecture, Execution Plans, Financial Plan.
Due Diligence: for Use of Resources, Commitment of $$ Over Time, NPV Adequacy.
Show Realistic Path For The Program To Succeed.
Program Execution.
Organization of Program into Projects/Manageable Entities.
Organizes Project Meeting Structure.
Day-to-Day Project Interaction, Mitigation, Opportunities.
Program Quantification, Tracking, Reporting.
Manage Toward NPV (= Program Commitment).
Plan, Quantify, Execute Program Change.
PM Tooling – Quantification, Program Execution Structure – Sprints, Phases, Major Test.
Know, Guard and Mitigate Changes on Critical Path.
Release Commit.
Meets Product Requirements and Financials.
Meets Standards and Compliances.
Production, Support, Customer Readiness.
---
Program Management Communication With Customers
Of Course, The Product of the Program Is For Customers!
Know how Customers will perceive its value. Monitor that, and guard it through Program execution.
Establish active interaction with Customer-facing personnel – Marketing, Sales, Support. They should participate in regular Management meetings for the Program.
Develop interaction with Customers, internal and external and as appropriate, through deployment of internal prototypes, Alpha/Lead Customers, and Beta Production Trial Customers. Solicit feedback, and stay tuned to providing value to them in the product.
Keep in mind that the policy of most organizations is that only Sales/Marketing can make commitments to external Customers.
There is more detail on PM Customer interaction, in Post Advice for Program Managers: 3-Program Management Career Skills.
But Who Are the Customers?
So, that advice is for working with external customers. But many projects and Programs don't interact with external customers, at least not directly. Consider projects developing an internal transport mechanism, a processor blade, a media stream transcoder, supply chain yield enhancement. There are many internal Program entities to be managed. Do they have customers?
Let's think about the concept of customers in a broader sense. There are customer-supplier relationships throughout most Programs – they are called dependencies and deliverables, and they are often the basis for development sequencing of the whole Program.
For these, it's important that the Program Manager work with the team to ensure that these relationships are identified early, and planned-for. Then, throughout the duration of execution of the Program, that awareness and agreement are sustained, updated and executed to maintain flow and timeliness of the Program.
---
Communication Is Not Just About The Program Manager
Organize the whole Program for Communication.
Formal Program Communications Involve Big Meetings.
They Involve Business, and Cross-Function Senior Management.
For Execution, Smaller Focused Meetings
The PM Creates and/or Communicates Direction Into the Program.
The PM Reports Issues and Status From Throughout the Program to Leadership at All Levels.
But Communication Happens Throughout the Program, Not Just PM.
The PM Can Organize the Program for Focus, and Effective Communication.
---
Project And Communication Hierarchy
For Execution, a Hierarchy of Small Meetings Beats Large Meetings
Each Meeting Has a Focused Participation and Topic (Clearly Identified Project of One or More Elements).
Participants More Engaged.
More Interaction on topic.
Less E-Mail, Browsing, Chat in the meeting.
Each Meeting is Useful. Decisions Can Be Made.
Hierarchy Of Meetings
Entity Development Project Meetings (Weekly, or Agile Cadence)
Integration Meetings (Weekly)
BU Management Meeting (Bi-Weekly)
Senior Demo and All-Hands (Quarterly)
---
Organize For Communication! A Typical Hierarchy Of Projects
Entity Development Projects – Projects Driving Program Element Design/Test Progress/Issues.
A Project for each major Program Element or collection of smaller Elements.
Hardware Elements: Board, Assy; DevLeads, PM, EE, ME, FW, Test, Driver, Supply Chain, Mfg Ops.
Software Elements: Major Function/Blocks, Management; DevLead, Devs, PM, (ScrumMaster), SQA Dev.
Typically one Line Organization has primary technical responsibility for each of these projects. Program Management manages cross-functional aspects, and integration into the Program, assisted by Dev Leads.
Integration Projects – These Add An Additional Layer of Cross-Abstraction Across Elements Integrated, Requiring PM Planning and Management.
SW Integration: SQA Execution, DevOps/Branch Management, Bug Track, CI/CD. PM, SQA Lead or DevOps Leads.
HW Build/Test (Supply Chain, CM), HW/SW Chassis Integration, System Integration: PM (Leads), Supply, Ops, IT, DevLeads.
Qual Projects: System-Level Compliance, Environmental, Safety, EMI et al. SME or PM Leads.
Program Management: Quantification: Schedule, Alloc, ProdStruct, Builds, Supplier/Cost, Supply/Ops/Finance; PM (Leads), DevLeads.
System Architecture (SME Leads).
Typically NO single Line Organization has primary technical responsibility for each of these projects. Program Management manages cross-functional aspects, and integration into the Program, assisted by Dev Leads.
Because Integration and Qual projects are cross-cross-domain efforts, comprehensive management is likely inherently slim. That's even though cross-domain expertise is required to test and notice any issue, and to diagnose, fix and test it. Issues in these cross-cross-domain projects are often persistent and difficult to remedy. For these efforts Program Management must ensure organized management with active communication crossing all involved domains.
Management – Major progress, Issues, Variances. PM Leads.
BU-Level Review: DevLeads, Cross-functional BU Management – Approx weekly/bi-weekly.
Demo to Senior Management, Product Management & Finance with Business Outlook, Program Review approx. quarterly.
Couple Senior/Demo Meeting With All-Hands. Awareness and Team Togetherness, cross-Org, Food, T-Shirts.
Communicate to Future-You and Other-You: Document APIs/Structure, Dev Plan/Actual, Financial Plan/Actual.
For Product Maintenance, Feature Add+Later Releases, Next Program, Adjacent/Derivative Programs.
Immediate and Later Communication to Technical Users.
---
Organize And Communicate Data Too! (Tools)
The Program Manager collects data on the Program from throughout the organization and creates data that structures the program.
Detailed structural data must be communicated in usable form too, to coordinate multiple efforts. These efforts are often executed in parallel, and often have mutual dependencies and deliverables.
The Program Manager combines and integrates the data, organizes it, and provides Reports specific to organizations and processes advancing the program, to guide their work throughout the organization.
These or other tools can significantly organize and coordinate a Program, and make it possible to keep plans updated and coherent in all dimensions with limited effort.
That makes it possible to always know and communicate detailed aspects of "The Best Known Path From Here", and to implement Agile, or Agile Mindset, with Quantification particularly for processes involving tangible artifacts and finances.
This process in turn keeps the Program on-track, guides coordination of all organizations and processes keeping the effort lean and efficient, helps to mitigate change impact and coordinate its implementation, to meet the business objectives of the Program.
---
Take-Aways
Program Management Depends On Effective Communication Practiced Pervasively.
Numerous tips and parameters are given above for formal program communication, negotiating, and project and management meetings.
Important: organize assembly, integration and test. Key aspects of a Program may fall outside of existing cross-organizational structure, or structure of the target product. Program Management can organize the whole Program, including all aspects, to create communication channels and remove communication barriers.
Important as well: much communication is required on detailed quantification topics, to coordinate both normal program execution and change. Programs can involve technologies requiring complex dependencies, logistics, planning and execution and requiring detailed communication. Appropriate tooling can add computer leverage to planning, updating, and change management, removing barriers and labor for quantification. The resulting quantification results in better communication, better direction, better decisions, and better coordination, leading to Agility in all dimensions of a complex Program.
---
Further Reading: Core Program Quantitative Structure for System Programs
Advice for Program Managers: The Blog Series
1-Program Management Opportunity
Introduces a vision and framework for development of Program Managers and PMO, for Program Management specialization to its environment, and for improved effectiveness and integration of PM with organization
operational management.
2-Program Management Career Path
Describes career path thinking for Program Managers including sourcing, progression, advancement, and connection with organizational management.
3-Program Management Career Skills
Career path thinking for Program Managers including skills and behaviors that develop Program Manager capabilities and leadership and pave the way toward advancement.
4-Program Management Specialization: System Programs Phased Methodology
PM Best Practices and Core Program Structure for Hybrid integrated system programs using Phased HW – Agile SW, mixed-technologies. Full-Program agility via automated plan tools with continuous plan update.
The Series also solicits contributions to this Blog site, to extend coverage of PM Best Practices and Core Program Structure to a broadening set of Specializations.
5-PMO Role
PMO behavior to achieve Program Management effectiveness specialized to its environment managing PM practices in the organization, including PM development and advancement and connection with organizational management.
6-Quantified Agile for Hardware
Program Quantification applied to Phased and Agile methodologies to deal with organizational quantitative requirements.
---
More Articles by this Author
Three Levels of Program Management
Guiding Principles for Program Management Action, Program Quantification, and Leverage Through Tooling.
Organizing Program Communication
Program Management depends on effective communication. Design Program communication paths for everyone throughout the Program.
Database Platforms for Program Management Logistics
Logistics Tool extended, using SQL Server and MS Access with MS Excel and PowerQuery.
PowerQuery Tool
Logistics Tool using MS Excel Power Query.
Quantitative Management
Tool methodology for agility with continuous plan update: Program BOM, Tie to Dates, Builds, Element data.
Complex Programs: Structure
Structure Program with Parallel Phasing. Describes coordination of EE/ME, FW, Test, Supply/CM, Driver/Kernel, Transport, Management. Scheduling, Integration points, scaffolding, and starting work. Hybrid Program Cross-Domain Coordination of dev frameworks, including Phased and Agile/Scrum where appropriate, via integration points and scaffolding. Software Integration Sequence and Dependency Planning.
Managing Complex Projects
Problem Statement. PM responsibility for Program Management drive throughout an organization, also includes schedule, budget, integration, critical path, logistics.
---
Link To Free Tools To Manage Schedule, Logistics, And Finance
Author's softtoyssoftware.com website with articles on Program Management and Program quantification tooling using Excel, MS Project, and MS Visio with SQL databases PowerQuery, SQL Server, and MS Access. Articles describe how you can use tools available from the website, or develop these capabilities yourself using commonly available tools.
Tools available from this website are free. They can handle small to large programs, limited only by your imagination. Using the included Program Template to envision, organize, plan, and run a large program puts me in mind of unleashing a Roman Legion to a sure outcome. Veni, Vidi, Vici! – Julius Caesar.
Details on design of Structured Tables, JOINs, Reports/Pivots in Tools.
Schedule, Visualization, Reporting.
Hybrid program agility with continuous plan update.
Microsoft 365 Desktop – based.