Silicon Valley Project Management – SVPM
Where volunteers gain hands-on experience with scrum and Agile frameworks through the SVPM immersive Scrum Team program.
Who we are:
The Silicon Valley Project Management website, SVProjectManagement.com, started in 2006 to create a community of Project Managers who share best practices, experiences and lessons learned. By 2018, a group of PM leaders applied Agile mindset to build a community of Agile and Scaled-Value Project Management. Our cross-functional volunteer community adapted a hybrid of Agile frameworks and created the SVPM Scrum Team program. Our community now is registered under a nonprofit organization called Agile and Scaled-Value Project Management (www.ASVPM.org).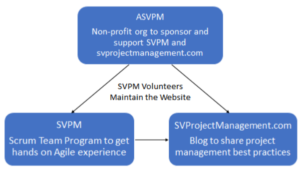 www.svprojectmanagment.com, is a blogging platform that supports this community in two ways; it provides an opportunity for project managers/professionals to gain hands-on experience using Agile frameworks, and provides an online space for Agile/PM practitioners to share their knowledge and experience with our community. SVPM Scrum Team Program is an empirical and self-governing program guiding volunteers to build and support www.SVProjectManagement.com online presence using a hybrid of Agile frameworks.
How we work:
The SVPM Scrum Team Program utilizes Agile frameworks to help volunteers build Product Backlogs, create self-governing Scrum Teams, and build various tasks to support our online community. The close collaboration of our cross-functional team enables us to employ an Agile mindset using a hybrid of Agile frameworks such as Scrum, Kanban, Lean, XP, FDD, and any adaptive practice that we learn through collaborative work.
Who:
Agile Coaches: David Bakhtnia, Donald Stringari
Volunteers – Project Management Professionals with a desire to learn Agile mindset in practice:
In career transition
Workforce reentry
Career growth
College graduates
Volunteer Benefits:
Flexible Hours
Free of Cost (No Expense)
Build Hands-on Experience/Skills
Network with fellow Agile practitioners
Gain Exposure/ Build Credibility to the professional community
Find out how you can volunteer in the scrum team by clicking here.
Our Story:
Click here to find out more about the history of SVPM.